First AML Complex
First AML complex.
KYB at speed.
Combining deep domain expertise with a pre-verified entity ecosystem and powerful automated workflows, First AML complex provides effortless verification, quickly and accurately.
KYB and complex entity onboarding has

never been so easy.
Anyone can do AML for individuals. Some can even do AML for complex entities. But only First AML can do KYB accurately and fast.
UBO exposure
Continuous monitoring
See it all
SoW/SoF
UBO exposure
Lift the veil of complex entity structures to identify the real UBOs; without compromising speed to revenue.
Continuous monitoring
Perpetual storage and daily rechecks against PEP and sanctions lists keeps you safe and revenue flowing.
See it all
Handle every entity type; partnerships, companies, trusts, charities... both local and international, with First AML. Then visualise the entity tree and associated UBOs both at-a-glance and in depth.
SoW/SoF
First AML complex cases include SoW/SoF documentation when required, and is stored in our ecosystem for your future business engagements.
Trusted

by local and global companies

Automatic. Resilient. Global.

Speed through complex onboarding.
Entity structure analysis
Visualise entity structures and identify ultimate beneficial owners, no matter the depth of the entity.
Real-time information from a global network of primary source company data of over 200+ corporate registries
Data sources of 120 million+ entities
Coverage from over 100 countries
Information is cross checked before moving for your review and approval.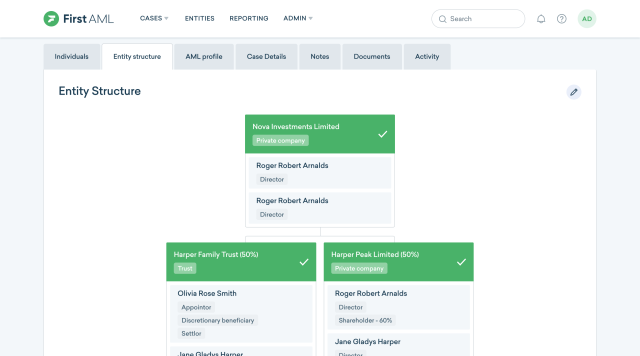 Multi-factor biometric EIV
Onboard individuals with confidence. Anywhere, anytime.
Conduct realtime KYC and KYB. First AML multi-factor biometric EIV uses AI and smart automation to conduct:
User impersonation / spoofing / liveness checks
Proof of verification.
Data extraction from documents using OCR.
EIV fail safe
If EIV fails, don't worry, you have backup.
Practical AML logic is in-built to First AML's decision engines, so if something goes wrong, additional workflows trigger, prompting customers to upload original documents via secure web forms, keeping the process on track, and making sure that work isn't falling back on your team.
Source of Wealth / Source of Funds
Remove uncertainty and difficulty
You don't always need both SoW and SoF. But when you do, our solution obtains them, associates them to the case and stores them in our pre-verified entity ecosystem for future use. If SoW / SoF is from new wealth types, such as NFTs or crypto, we deal with that too.
PEP, sanctions and adverse media
Protect your company from potential reputational and financial damage

Unlike other EIV providers, First AML provides perpetual storage, enabling ongoing PEP, sanction and adverse media screening for fast business, now and in the future. Exception-based reporting for new inclusions, removes white noise while keeping you compliant.
Here's why our

clients love First AML.