If you don't know, now you know.
What do Minter Ellison Rudd Watts, Harmos Horton Lusk and Thompson Blackie Biddle have in common? No, it's not only that they're leading NZ law firms. It's that they all excel in their profession thanks to their client-first approach that's underpinned by technically excellent solutions and innovative advice.
So what are some of the excellent and innovative things they're doing? They focus on a number of initiatives that improve profitability, provide superior service and mitigate risk while meeting regulatory compliance. But this article is about how they, and other leading law firms, think about and address the true cost of customer due diligence and AML/CFT compliance requirements.
Why AML/CFT? And why now?
Since 2018 New Zealand law firms have been required to conduct comprehensive and in-depth CDD on both their clients and their clients' clients. But as the market gets busier, competition heats up and scrutiny from media and government entities intensifies, (hello Pandora Papers, official warnings and prosecutions both big and 'small') leading law firms are looking for alternatives.
So how do the best law firms meet their compliance requirements while minimising negative impacts on profit margins (reducing costs and increasing revenue) all the while providing a positive customer experience? Outsourcing.
Why outsource AML/CFT software and services? It's a simple equation really…
Time's up. New Zealand's AML/CFT Act governing bodies have had enough.
Now more than ever, AML processes are being highly scrutinised with the three governing bodies signalling that they will no longer tolerate lax compliance.
2021 has seen a number of actions from all governing bodies. Starting in March, the Department of Internal Affairs (DIA) took a hard line approach by issuing a warning to non-compliant law and real estate organisations, stating, "The legal sector should be aiming to set the standard for AML/CFT compliance. Our inspection highlighted a lack of understanding and apathy towards developing and maintaining policies and procedures. New Zealand has a strong reputation globally and there is confidence in our system. We have a responsibility to maintain this for Kiwis, and for those outside our borders who want to do business here."
Following closely in April the 2021 FATF report was released, highlighting a number of recommendations, which historically have resulted in material changes to the enactment of the AML/CFT Act.
In August, the Financial Markets Authority (FMA) noted in their AML/CFT monitoring insights report that they had run out of patience for New Zealand businesses. "We now have less tolerance for companies not meeting their obligations, which is reflected in an increased number of enforcement actions," explained FMA director of supervision, James Greig recently.
And most recently in October, the Ministry of Justice noted alarming stats, "Each year about $1.35 billion from the proceeds of fraud and illegal drugs is laundered through everyday New Zealand businesses."
As the public eye is drawn more and more to matters of AML and compliance, it is the prerogative of companies to consolidate their AML processes and ensure they are within regulations.
The most alarming part is that regardless of how much has been spent (in time, training and money) to build internal processes to stay compliant, many organisations, big and small, still fail.
Talent starved and time poor
On top of this, depending on how you view it, law firms are in a talent war. They're either fighting the 'Great Resignation' of existing staff or competing for the small pool of skilled CDD, financial crime and AML/CFT compliance experts.
If they can't secure experts (mid or top level) then their next option is to hire grads. But this still requires a lengthy, time consuming process which also requires finding people with the right 'fit'.
Add to this 12 weeks of training that a new financial crime hire has to undertake to become skilled, and you find an inefficient process to getting your anti-money laundering compliance sorted. This is a time and resource limitation, leading to longer processing times of clients, and in turn some clients slipping through the cracks, not to mention the risk of non-compliance.
By the numbers
So what about the cold, hard numbers? Here at First AML we've spent a lot of time understanding our clients in the legal sector – developing ROI calculators to help them see the true cost of compliance. An interactive version of the AML for law calculator is available here but for a quick review let's assume the following based on a charge-out rate of $180/hr for a Graduate or Junior Lawyer, and $300/hr for a Lawyer or Associate.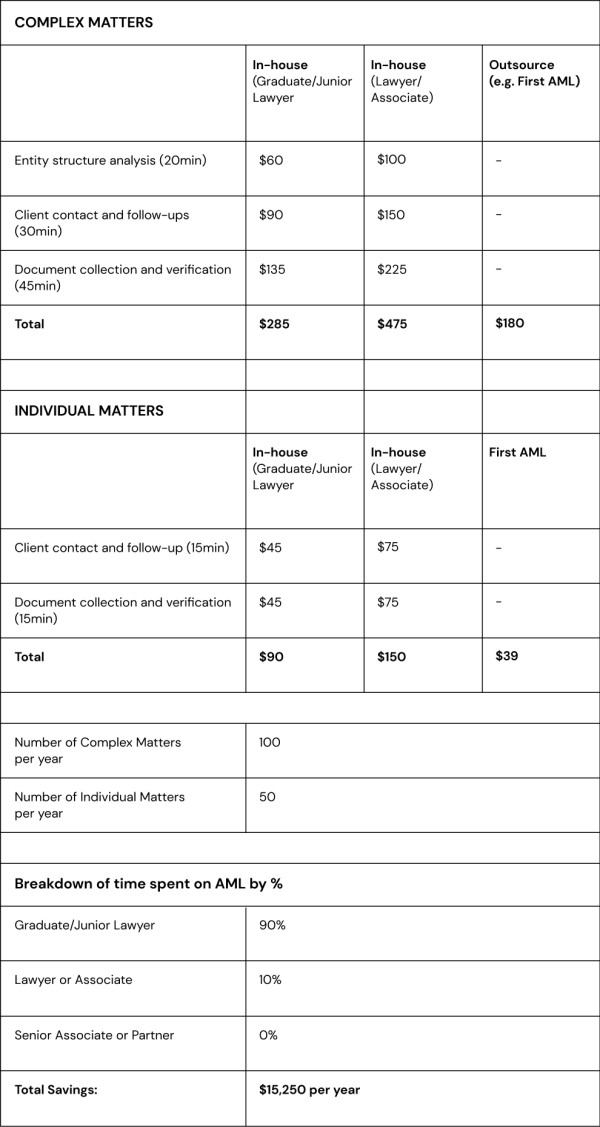 So as can be seen, the decision to outsource the entire process becomes a 'no-brainer' when law firms see that they can save money, ensure they are compliant and provide an excellent customer experience; all via outsourcing.
The risks: outsourcing AML / CFT compliance and what you need to know.
As we've just shown there are far more efficient and cost effective ways to achieve AML compliance than to build it yourself or continue with what was put in place in 2018 when Phase 2 of the Act came into effect. The simplest option is to take an already established compliance solution, software or service, and implement it into your law firm. This can be done fairly quickly, with an already established company.
Is it possible to outsource the effort but keep the risk in-house?
In short, yes.
Many law firms are hesitant to outsource compliance programs, citing concerns over risk assessment vs. analysis tasks. However, outsourcing compliance doesn't have to mean that you are letting go of the risk analysis. In fact, many tech solutions allow a firm to outsource the heavy lifting and administration of compliance, but keep risk assessment in-house.
Law firms can task these agencies and software providers (such as First AML) with the time consuming aspects of anti-money laundering compliance. Ask them to analyse an entity structure, liaise with end users back and forth for data collection, and complete an analysis of the documents provided.
An in-house compliance officer can then analyse the outcome of this information and decide on the risk assessment of a client. Essentially you are outsourcing all the nitty gritty, time consuming elements, and all you have to do is approve the case and it's done!
Simply the best
As noted in the above quote, by implementing an already established compliance software solution, you are likely to be closer to meeting compliance requirements. Compliance software solutions generally have a decision engine made up of feedback from hundreds of customers that use their solution, as well as working closely with government regulators, to understand what best practice truly is.
This way you know you're collecting all the right information, and you can rest assured that during an audit, you'll have met all your AML/CFT requirements correctly.
The upshot
Leading New Zealand law firms are choosing to outsource their AML/CFT compliance processes in order to meet their CDD regulation requirements because it:
Is an easier way to ensure compliance with New Zealand CDD requirements
Provides reputation protection against media and government scrutiny
Avoids pain and sunk time associated with recruitment
Can improve profitability due to it being generally cheaper than doing it in-house
Keeps the risk assessment in-house while outsourcing the 'heavy lifting' admin (allowing for increased revenue via more billable hours)
Provides peace-of-mind that come audit time you'll pass with flying colours thanks to the outsourcer focusing only on this process, being in close collaboration with the regulators and knowing that their future depends on providing an exceptional service
Provides a more consistent, sustainable and scalable approach to meeting your AML/CFT requirements.
---
About First AML
First AML is an AML technology provider, and the maker of Source, an all-in-one AML platform. Source powers thousands of compliance experts around the globe to reduce the time and cost burden of complex and international entity KYC. Its enterprise-wide, long term approach to the KYC / CDD data lifecycle addresses time and cost challenges while minimising compliance, reputational and security risks.
Keen to find out more? Book a demo today! No time for a long demo? No problem. See what First AML can do for your business in 2 minutes – watch the short demo here.