AML/CTF Tranche 2 is coming.
Let's

make it easy.
First AML helps thousands of accounting firms globally to conduct KYC and KYB accurately, fast and on-chargable.
Regulatory complexity
Protect your bottomline
International companies
Security and privacy
Trusted by local and global companies
Leave the

complexity

to us
First AML is the KYC partner you need to support your company's desire to do the right thing while delivering an exceptional ROI. Meet your compliance requirements with scalability and fiscal responsibility in mind.
Peace of mind.
The First AML platform is build to regulations and embedded with smart workflows born from deep domain expertise. As regulation requirements change, so too does the platform.
A superior user interface makes quick work of case requests, leaving your team to focus on billables and advisory rather than document chasing.

Learn more about Source by First AML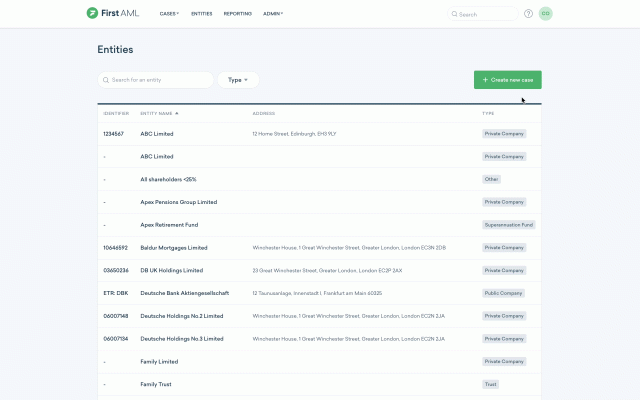 Ongoing Monitoring
Always up-to-date and accurate.
Ongoing CDD
Source by First AML delivers effortless Ongoing Customer Due Diligence (OCDD), delivering auto alerts to fundamental changes like beneficial ownership or document expiry.
PEPs, sanctions and adverse media
Real-time monitoring of over 1,100 PEPs and Sanctions lists worldwide with results delivered via exception-based reports.
Audit-ready. Always.
It's never been easier to build and follow an audit trail.
Source by First AML, automatically builds an audit trail as you go. Risk assessments, time stamps, exceptions, decision trails, audit logs... all available, all the time, all in one place.
Add auditors as 'read-only' users, allowing them to find what they need in a few clicks while ensuring customer privacy rights.
KYC and KYB

publications for accounting

firms.
Specialist AML

for your most common clients.
Here's why our clients love First AML.
What I like about First AML is that it makes it easy and painless for our customers.

Lisle Clements

Grant Thornton
First AML's simplicity and ease of use has streamlined and simplified the AML process, resulting in faster client onboarding.

Hamish Baker

Baker Accounting
First AML has drastically reduced the administrative hassle of the AML process, providing our staff with more time to focus on serving our clients.

Thomas Barnaby

Shieff Angland Law